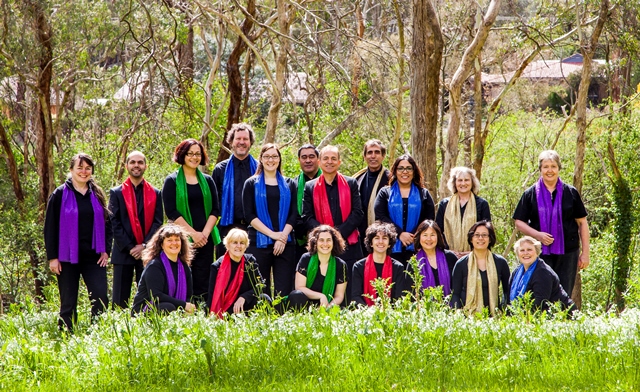 Baha'is from across Australia will be heading to Sydney in September to sing in the acoustically spectacular Baha'i Temple, an Ingleside icon above the city's northern beaches.
They will form the Australian Baha'i Choral Festival choir, which on Sunday, 6 September, will present a program of uplifting choral music based on the sacred writings of the great world religions.
The event, which starts at 11 am, is open to the public free of charge, and will be in partnership with the 2015 Sydney Sacred Music Festival to be held 5-20 September.
The choir will sing a capella (unaccompanied by instruments) in eight languages, including Woiwurrung of the Wurundjeri people of central Victoria, English, Arabic, Hebrew, Hindi, Luganda, Maori and Ukrainian.
Interspersed between the songs will be prayers and readings from the world's major religions.
Of the approximately 80 choir members, most will come from cities, towns and rural areas throughout Australia, but others will travel from as far afield as Germany, New Zealand and the United States.
For the past five months, the singers have rehearsed in a virtual space—via video, email and regional gatherings—but will gather for four days of intense face-to-face rehearsals in the days prior to the concert.
At the musical helm of this event is professional conductor, singing teacher and choral singer, Lorraine Manifold, a Canadian by birth who is based in Melbourne after an international career in North America, Europe and the Middle East.
Ms Manifold has extensive international experience in secular choirs such as Les Choeurs de l'Union Européenne and the Ottawa Festival Congress. She has also sung in major Baha'i choral performances, including with the Voices of Baha at Carnegie Hall in New York City and the Chicago Baha'i Temple choir in Wilmette, Illinois.
"There is something really, really special about choral music," Ms Manifold said. "You can have a very experienced singer next to a less experienced singer and you will have all these different sounds that will come together and blend into something completely beautiful.
"We are inspired by the Baha'i sacred writings, including the quotation: 'We, verily, have made music as a ladder for your souls, a means whereby they may be lifted up unto the realm on high.'"
Her husband, Alan Manifold, also a widely experienced choral singer, is the general manager of the Australian Baha'i Choral Festival. The couple jointly founded the Perfect Chord choir in Melbourne, many of whose members will be singing at the Sydney event.
Address: The address of the Temple is 173 Mona Vale Road, Ingleside.