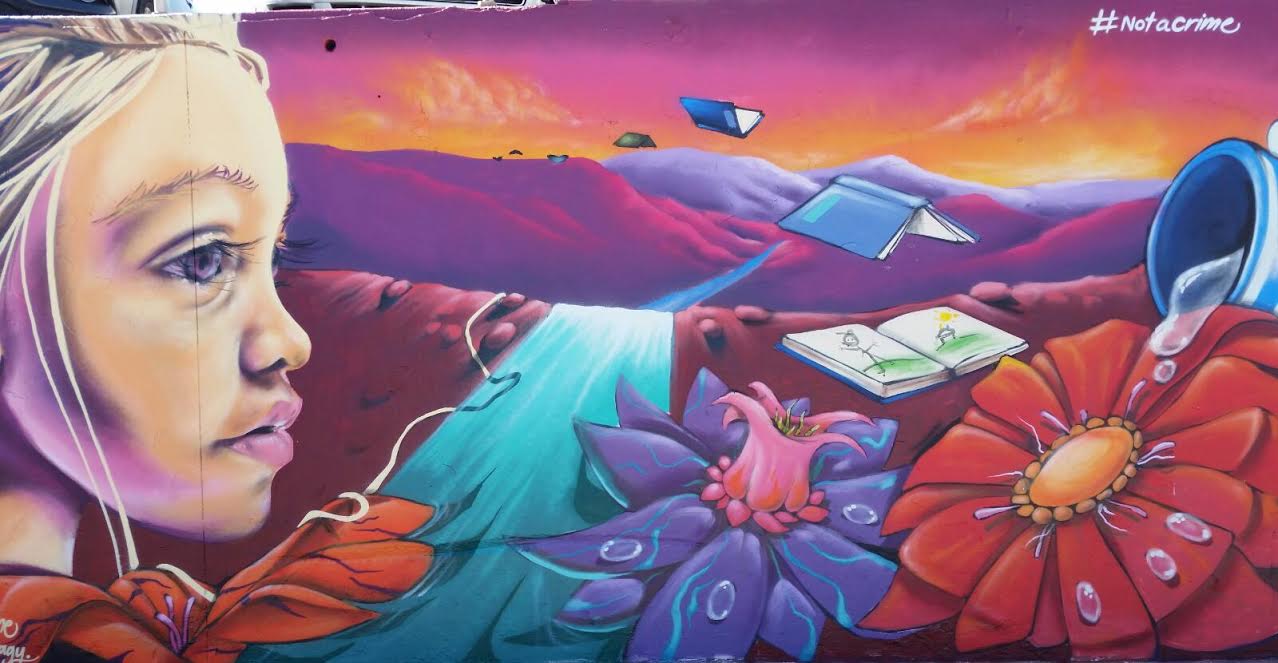 The Sea Wall will become alive on Wednesday 13 January with a beautiful image that promotes the right to education and freedom of expression as part of the international "#notacrime" campaign.
The mural is set to capture the image of a young girl and her dreams which is aimed at raising awareness of the long-running denial in Iran of tertiary education to Baha'is, that country's biggest non-Muslim religious minority.
With permission from Waverley Council to use the wall, prominent street artists Giles Fryer (Silverlines), Scott Nagy and Janne Birkner (Krimsone) have selected natural hues of blues and greens to paint the image to harmonise with the natural environment and beach lifestyle.
The art work, coordinated by Mr Fryer of Street Art Murals Australia, will be launched at the venue on Wednesday, 13 January 2016.
Spokesperson for the Australian Baha'i Community, Venus Khalessi, said the Bondi art work will be the third in Sydney and follows similar #notacrime initiatives in New York, London, Brazil and South Africa.
"The beautiful art works in these large scale public mural projects draw attention to the fact that Baha'is in Iran have been denied university education for more than 30 years," Mrs Khalessi said.
"The Baha'is there responded by creating an informal education process, but now even the educators involved are being imprisoned.
"Last month we learned that a six-year-old boy is about to be deprived of the care of both his parents because they have been sentenced to four and five year prison terms for teaching Baha'i youth who were otherwise denied access to higher education.
"This is outrageous. The fundamental human right to education must be restored to the Baha'is of Iran."
The other Sydney venues in the campaign include the wall behind Lentil as Anything in King Street, Newtown (see illustration), by artists Krimsone and Scott Nagy and a wall in Applebee Street, St Peters by stencil artist Camo, from Gallery 448.
The campaign was initiated by Maziar Bahari, a journalist who is not a member of the Baha'i community. He gained international recognition from the Jon Stewart movie Rosewater, which depicted his unjust imprisonment in Iran when he travelled there as a Newsweek journalist to cover the 2009 elections.
The #notacrime campaign has received the support of Nobel laureates Archbishop Desmond Tutu and Dr Shirin Ebadi. Endorsement of the campaign has also come from Hollywood stars including Mark Ruffalo, Rainn Wilson, Nazanin Boniadi, Justin Baldoni and Omid Djalili.
Watch the video from the Newtown wall by artists Krimsone and Scott Nagy