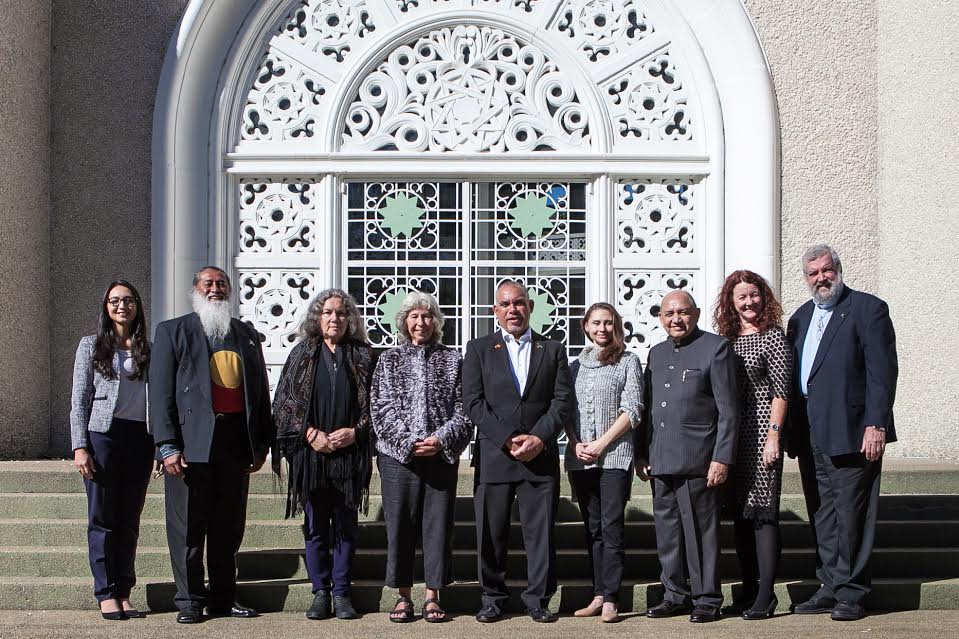 Community leaders presented readings from the sacred scriptures of the world's major religions at a service held in the Baha'i Temple in Sydney on 29 May to mark National Reconciliation Week.
The service also included a recital by a youth choir from Mt Druitt, who sang in English and in some languages of the Pacific Islands.
Indigenous readers included Michael West, a member and custodian of the Metropolitan and Local Aboriginal Land Council, and an Aboriginal man of the Gamilaroi Nation; Cr Dominic Wy Kanak from Waverley Council, a former member of the NSW Reconciliation Board, and a Torres Strait Islander; and Aunty Rhonda Dixon-Grovenor, a Darug/Yuin elder.
Other community leaders who read included: Cr Vanessa Moskal from Warringah Council, representing the Mayor, Michael Regan; Father Patrick McInerney from the Columban Mission Institute; Vijai Singhal, director of the Hindu Council of Australia; and Cr Kylie Ferguson, deputy mayor of Pittwater Council.
The Baha'i readers were a member of the National Spiritual Assembly, Shahram Noorgostar, and National Discourses Officer Ida Walker.
A member of the NSW Jewish Board of Deputies Community Relations Committee, Debbie Scholem, was a special guest at the event.
Professor Fariborz Moshirian also represented the National Spiritual Assembly of the Baha'is of Australia.
In a welcome to the special guests who participated in the program, Baha'i spokesperson Venus Khalessi said the Australian Baha'i Community was among the faith communities that started the Week of Prayer for Reconciliation in 1993, and this was expanded in 1996 to become National Reconciliation Week.
"The purpose of the week is to provide a nationwide focus on reconciliation activities. It is a time to reflect on achievements so far, and to focus on what is still to be done to achieve reconciliation in Australia."
Commenting on the uplifting atmosphere and the attendance by people from many walks of life and cultural and religious backgrounds, Ms Khalessi said: "The service represented a sincere and whole-hearted desire for the reconciliation of our nation's first peoples and for the recognition of the oneness of humanity."
View more photos from the service
Note: The theme for the week this year was "Our history, our story, our future".'