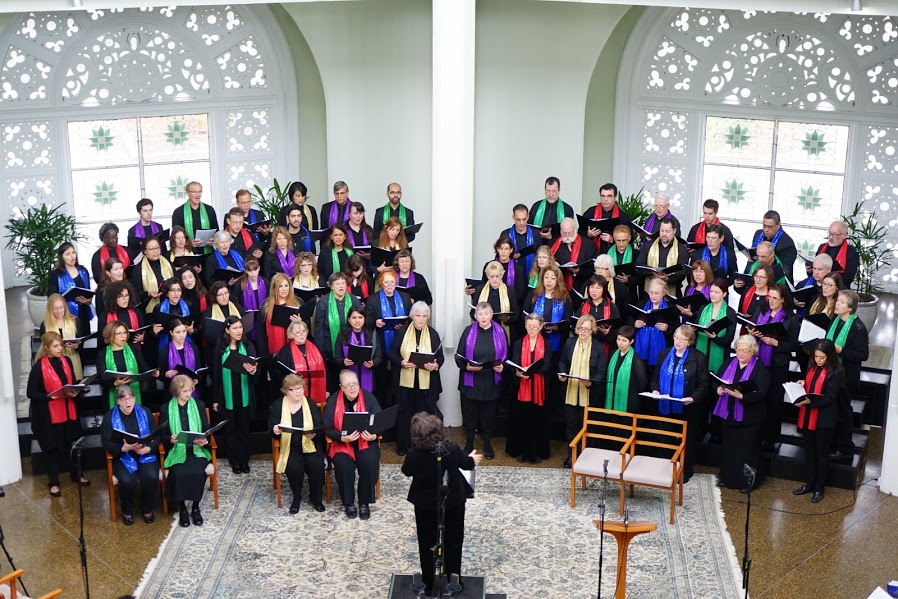 Last year's event won national attention after it was recorded and later broadcast by ABC Radio National.
Some 80 singers from across Australia and overseas will perform from 11am on 11 September at a venue renowned for its acoustic marvels, the Sydney Baha'i Temple.
Interspersed between the songs will be prayers and readings from the world's religions. The program of 18 songs covers five languages, including an Aboriginal one, a diverse range of styles and different religious texts, and will feature the theme of unity in diversity.
The event, open to the public free of charge, will be in partnership with the 2016 Sydney Sacred Music Festival, which is being held 2-18 September.
In a unique continent-wide virtual rehearsal room, singers began to rehearse for the event in May this year, aided by the use of video, email and regional get-togethers. On Thursday 8 September, just three days before the concert, all singers will gather in Sydney for intense face-to-face rehearsals.
At the musical helm of this event is professional conductor, singing teacher and choral singer, Lorraine Manifold, a Canadian by birth who is based in Melbourne after an international career in North America, Europe and the Middle East.
Ms Manifold has wide experience internationally in secular choirs such as Les Choeurs de l'Union Européenne and the Ottawa Festival Congress. She has also sung in major Baha'i choral performances, including with the Voices of Baha at Carnegie Hall in New York City and the Chicago Baha'i Temple choir in Wilmette, Illinois.
Her husband, Alan Manifold, also a widely experienced choral singer, is the general manager of the Festival. The couple jointly founded the Perfect Chord choir in Melbourne, many of whose members will be singing at the Sydney event.
Visit the website of the Baha'i Choral Festival
Visit the website of the Sydney Sacred Music Festival

Listen to the ABC Radio National program "The Rhythm Divine", Touching the Sacred