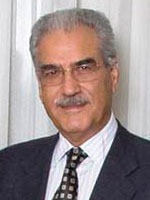 Jamaloddin Khanjani, 81, is a successful businessman known for his dynamic, loving personality.
Mr Khanjani established the first automated brick factory in Iran, employing hundreds of people.
And when the authorities closed down that business because he is a Baha'i, he established a mechanised farm.
Soon religious prejudice struck again. The authorities imposed so many unfair restrictions on that farm, it became hard to operate.
In 2008, they arrested Mr Khanjani, one of seven Baha'i leaders of Iran who, with the tacit consent of the authorities, had long looked after the needs– such as weddings and funerals — of the 300,000 members of the Baha'i community, the biggest non-Muslim religious minority in Iran.
All seven have now served seven years of a 20 year sentence. A seven day campaign, 14-21 May, is calling for their release. The theme is "Seven days in remembrance of seven years in prison for the seven Baha'i leaders." The hashtag is #7Bahais7years
Wry humour
Mr Khanjani is the oldest and longest-serving member of the group. His national leadership role dates back to 1984, when he was elected, alongside eight other Baha'is, to serve as a member of the national governing body for the Baha'is in Iran. The authorities declared that body illegal and executed four of his fellow members.
Mr Khanjani's niece, Nika, recalled the two years she lived with her uncle and his wife in Iran.
"To me, he was a connection with my father, as they both share beautiful voices and a wry humour," she wrote.
"During my time in Iran, I was surrounded by dozens of cousins, aunts and uncles, who created a warm and joyful chaos, full of humour, teasing and laughter.
"Whenever my uncle entered the room, the tone would shift as everyone, from the youngest to eldest, stood up to pay respects. He would then make a joke, and we would break into laughter again, continuing with our antics.
"The most difficult ordeal for my uncle was his separation from his wife, Ashraf, who passed away while he was in prison. Ashraf was my uncle's love, his life companion, his dearest friend and his most steadfast support.
"When she died, he was not given even a moment to attend her funeral and pay his respects at her grave, to say goodbye.
"Let us strive with all efforts to serve humankind. This is the cause for which my uncle, Jamaloddin Khanjani, and the leaders have sacrificed their freedom."