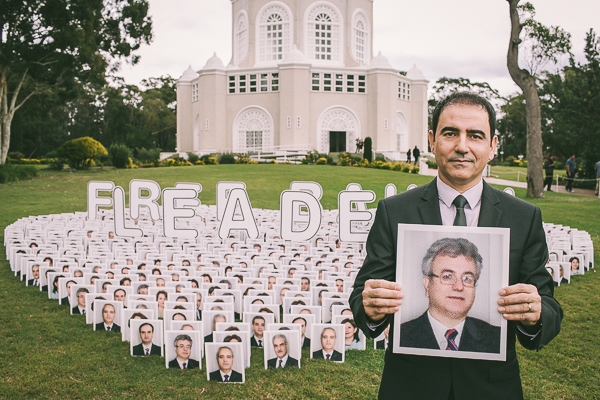 For the seventh anniversary of the unjust imprisonment in Iran of my uncle and his six colleagues, I have been involved in the creation of an installation that aims to highlight their situation.
The installation in front of the Sydney Baha'i Temple in Ingleside is a huge "heart" made with 1000 images of the seven members of the national leadership group of the Baha'is of Iran. It sends out a message of love and support.
These seven, including my uncle, were arrested in 2008 and, after a totally unjust sham trial where no evidence was presented, sentenced to 20 years imprisonment.
All seven have now served seven years in jail. A seven day campaign, 14-21 May, is calling for their release. The theme is "Seven days in remembrance of seven years in prison for the seven Baha'i leaders." The hashtag is #7Bahais7years.
All these leaders are completely innocent of any crime. Consider the case of my uncle, Saeid Rezaie, who is an agricultural engineer, poet and writer. He deserves praise not imprisonment, respect not restrictions.
My uncle is an intellectual with an appreciation for the arts and music but more than anything a great love for Iran and its people.
For many years he served Iranian farmers with his expertise and know-how. He provided them with the latest technology, machinery and advice.
Sadly his agricultural firm, which employed many people, had to close when he was arrested. Many Iranian farmers thus became deprived of his help.
Selfless service
As one of the seven leaders, Saeid selflessly served the 300,000 Baha'is of Iran by attending to their spiritual needs in such matters as organising weddings, funerals and so on. For years the authorities gave their tacit consent to this service but then they arrested them.
In 2006, the authorities also arrested Saeid's two daughters, Martha ahd Maaman. The reason? Along with 52 other youth, they were conducting a Baha'i-inspired literacy program in Shiraz to help under-privileged children. Part of their punishment was to attend a three-year Islamic education class.
The Islamic Republic needs to know that the world is watching. After seven years of this miscarriage of justice they should release these innocent souls immediately and unconditionally so they can return to their families and loved ones.
I hope that Australians from all walks of life will come and see the installation and show their support for the human rights of my uncle and his colleagues as well as those of all the prisoners of conscience who are unjustly imprisoned in Iran.
*Mehrzad Mumtahan is the director of the Sydney-based Harmony film festival, which he founded in 2003. He came as a refugee to Australia in 1987. Since then he has obtained degrees in the visual arts, and in art and design education, and has continued with a professional career.
Join the Baha'i International Community's #7bahais7years event page on Facebook